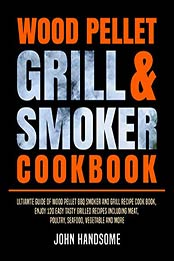 Title: WOOD PELLET GRILL & SMOKER COOKBOOK: Ultimate Guide of Wood Pellet BBQ Smoker and Grill Recipe Cook Book, Enjoy 120 Easy Tasty Grilled Recipes Including Meat, Poultry, Seafood, Vegetable and More
Author: John Handsome
Pages: 181
Publisher (Publication Date): May 19, 2020
Language: English
ASIN: B088WL5T26
Download File Format: EPUB
When it comes to grilling meat, chefs may have many appealing options. A traditionalist may prefer a charcoal grill, an efficiency friend may prefer an electric smoker, but if you are an outdoor enthusiast then consider a combination of both, the wood pellet smoker and grill.
The wood pellet helps you grill food with ease and less smoke. Similar to a convection oven, this wood pellet cooks food evenly. It is thermostatically controlled and as long as you feed the fire pot with pellets, the built-in control will maintain your chosen temperature. Moreover, the pellet smoker and grill win over traditional grills since they produce smoke with less acrid and are the easiest to use.
♥♥♥♥♥♥♥♥♥♥♥♥♥♥♥♥♥♥♥♥♥♥♥♥♥♥♥♥♥♥♥♥♥♥♥♥♥♥♥♥♥♥
I have shared many techniques and recipes in this book, including
✓ Essential Guide of Wood Pellet Smoking and Grilling
✓ Beef, Pork, Lamb Recipes
✓ Poultry Recipes
✓ Vegan And Vegetarian Recipes
✓ Fish And Seafood Recipes
✓ Side Dishes Recipes
✓ Cheese Nuts And Bread Recipes
✓ Rub And Sauces Recipes
✓ Some Personal Opinions
✓ More and more…
You can use the information as it is or experiments as we all have different tastes. I believe you will like the recipes in this book!
⚠So what are you waiting for? Grab your copy to enjoy your delicious outdoor grilling and smoking food now!⚠