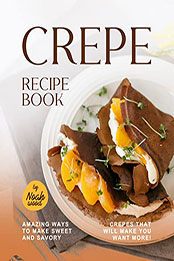 Title:Crepe Recipe Book: Amazing Ways to Make Sweet and Savory Crepes That Will Make You Want More!
Author: Noah Wood
Pages: 82
Publisher (Publication Date):November 28, 2022
Language: English
ISBN-10, ISBN-13 or ASIN: B0BNK89HT9
Download File Format:EPUB
Do you love treating yourself to delicious desserts? Do you need help with improving your cooking skills? Do you want to start your food blog and get into fame? If the answer to all the questions is yes, then this is the right book that you have picked from your collection. Crepes are loved by everyone, right from teens to grandparents to friends, everyone is attached to a deliciously flavored crepe. Crepes are commonly considered as pancakes but thinner and subtle. They have a long history coming from the grounds of France.
Crepes are easy-to-prepare recipes and tend to save your time. Gone are the days when baking was considered the trickiest task. Thanks to this amazing cookbook, which will provide you with the best crepe recipes in the world. Even if you are new to the basics of cooking and baking crepes, this cookbook will solve every problem.
Discover ways in which you can improve your creativity while preparing delicious crepes.