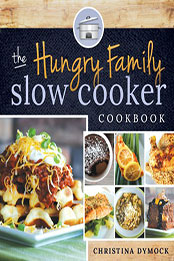 Title: The Hungry Family Slow Cooker Cookbook
Author: Christina Dymock
Pages: 254
Publisher (Publication Date): Cedar Fort, Inc. (March 10, 2014)
Language: English
ISBN-10, ISBN-13 or ASIN: 9781462107803
Download File Format:EPUB
"Every mother's dream come true: dinner that makes itself!
With the help of your trusty slow cooker and these healthy, simple recipes, you can put dinner on the table even on the craziest of days. Try the
-Peppery Cilantro Salmon
-Apple Roast Beef
-Sausage Stew
-Dark Chocolate Mini Cakes
Slow cooker meals save time and money, and they result in more delicious and nutritious food for your busy family. Christina Dymock, author of Young Chefs, teaches the many benefits of slow-cooked meals, how to care for your cooker, and the best slow cookers for your family's needs—in addition to over 90 mouthwatering meals.
Don't let the whirlwind of life stop you from feeding your family the food they deserve―delicious home-cooked meals straight from your slow cooker."