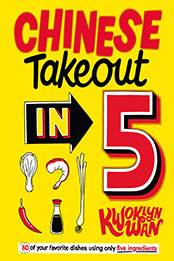 Title: Chinese Takeout in 5: 80 of Your Favorite Dishes Using Only Five Ingredients
Author: Kwoklyn Wan
Pages: 160
Publisher (Publication Date): Quadrille Publishing (September 21, 2021)
Language: English
ISBN-10, ISBN-13 or ASIN: 1787136531
Download File Format:EPUB
Kwoklyn Wan is back with 80 classic Chinese dishes that use only five ingredients. Alongside a basic store cupboard of five essentials – salt, pepper, soy sauce, sugar and oil – you can make a feast of easy dishes using the bare minimum. All your favorites are here – from Tom Yum Soup to Prawn Toast, Sweet Chilli Salmon and Lemon Chicken, Sweet and Sour Pork Balls or Beef in Oyster Sauce, Aubergine Fritters and Chilli Ginger Crispy Tofu – and all use only five key ingredients, all of which are readily available from supermarkets or local grocery stores. Packed with beautiful photography, fuss-free recipes and expert tips throughout, Chinese Takeout in 5 makes cooking fantastic Chinese food at home fast, easy and fun.