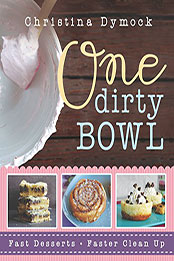 Title:One Dirty Bowl: Fast Desserts, Faster Cleanup
Author: Christina Dymock
Pages: 136
Publisher (Publication Date):Cedar Fort, Inc. (June 8, 2014)
Language: English
ISBN-10, ISBN-13 or ASIN: 9781462108664
Download File Format:EPUB
Create delicious desserts without making a mess!
One Dirty Bowl indulges your sweet tooth while getting you out of the kitchen in no time. Whip up showstopping desserts like
–White Chocolate and Strawberry Cupcakes
–Very Vanilla Brownies
–Hazelnut Puffs
–3X Chocolate Cookies
From Christina Dymock, author of Young Chefs and The Hungry Family Slow Cooker Cookbook, this cookbook will impress your guests and satisfy any craving. And these quick, tasty desserts only dirty one bowl, which means more time with your family and friends at the table.
Fast desserts, faster cleanup—grab a bowl and get ready to bake!