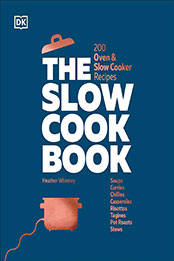 Title: The Slow Cook Book: 200 Oven & Slow Cooker Recipes
Author:DK
Pages: 336
Publisher (Publication Date): DK (September 12, 2023)
Language: English
ISBN-10, ISBN-13 or ASIN: 0744092159
Download File Format:EPUB
Slow cooking is the ultimate answer to low-cost, time-saving, nourishing family meals.
With over 200 easy recipes for a host of nutritious one-pot meals – including soups, curries, chilies, casseroles, risottos, tagines, pot roasts, stews, and even desserts – The Slow Cook Book offers a variety of delicious recipes. Simply add your ingredients to the pot, let the slow cooker work its magic through the day, and enjoy a delicious home-cooked meal – just "set it and forget it".
Step-by-step instructions guide you through different types of slow cooking and essential techniques, so you can achieve the best results.
Showcasing two methods of slow cooking for each recipe – one using an electric crockpot and the other using a combination of traditional pots, pans, stovetop, and oven – The Slow Cook Book offers meal options for whatever method suits you best. So raid the store cupboard, plunder the fridge and freezer and serve up healthy meals throughout the week in no time with this essential cookbook.