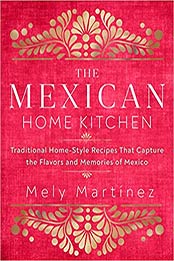 Title:The Mexican Home Kitchen: Traditional Home-Style Recipes That Capture the Flavors and Memories of Mexico
Author:Mely Martínez
Pages:192
Publisher (Publication Date):Rock Point (September 15, 2020)
Language: English
ISBN-10, ISBN-13 or ASIN:9781631066931
Download File Format:PDF
The long-awaited, best-selling cookbook from Mely Martínez, The Mexican Home Kitchen compiles the traditional home-style dishes enjoyed every day in Mexican households, with influences from states like Tamaulipas, Nuevo León, Veracruz, Puebla, Estado de México, and Yucatán.
*Included in New York Magazine's The Best 2020 Cookbooks to Give, Recommended by Cookbook Authors*
*Named One of Fall's Best Cookbooks by Eater, Epicurious, and Chowhound*
Illustrated with stunning photography, this book includes recipes for stews, soups, and side dishes, along with famous dishes like mole, enchiladas, picadillo, and milanesa, and is rounded out with delicious salsas, drinks, and desserts.
For Mely Martínez, Mexican cooking has always been about family, community, and tradition. Born and raised in Tampico, Mely started helping in the kitchen at a very young age, since she was the oldest daughter of eight children, and spent summers at her grandmother's farm in the state of Veracruz, where part of the daily activities included helping grind the corn to make masa.
Mely started her popular blog, Mexico in My Kitchen, to share the recipes and memories of her home so that her son can someday recreate and share these dishes with his own family. In the meantime, it has become the go-to source for those looking for authentic home-style Mexican cooking.