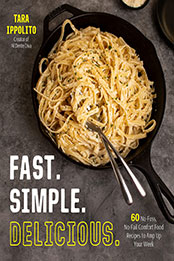 Title: Fast. Simple. Delicious.: 60 No-Fuss, No-Fail Comfort Food Recipes to Amp Up Your Week
Author: Tara Ippolito
Pages: 152
Publisher (Publication Date): Page Street Publishing (November 1, 2022)
Language: English
ISBN-10, ISBN-13 or ASIN:1645676595
Download File Format:EPUB
Expensive ingredients, long shopping lists, convenience over quality: recipes weren't always this complicated and disappointing―and they don't have to be anymore. If you're craving a cookbook that'll put the "easy" back into "weeknight cooking," then let Tara Ippolito teach you the right way to do dinnertime.
Tara Ippolito is the creator of the mega-viral TikTok account Al Dente Diva and the queen of hearty, fulfilling dinners. You'll never run out of inspiration with her innovative twists and ingenious upgrades on your all your favorite meals. Cure those Monday blues with a carb-loaded Stuffed Chicken & Cheese Bomb or a hearty Chicken Enchilada Casserole. Looking for some tasty sides to upgrade your main dish? Whip up a Broccoli Cheddar Soup with Garlic Butter Croutons or a few Southwestern Eggrolls with Avocado Ranch Dipping Sauce. And if you want the best-of-the-best, delight your tastebuds with some of Tara's most viral recipes. From The Absolute Best Fettuccine Alfredo to Jersey's Favorite Penne Alla Vodka, Tara's loaded this book up with all of Al Dente Diva's specialties.
With dozens of warm and cozy meals, you'll never struggle to whip up an easy, exciting dinner again.