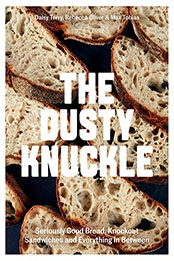 Title: The Dusty Knuckle: Seriously Good Bread, Knockout Sandwiches and Everything In Between
Author: Max Tobias
Pages: 208
Publisher (Publication Date): Quadrille (April 21, 2022)
Language: English
ISBN-10, ISBN-13 or ASIN: 1787137740
Download File Format:EPUB
'There's no match for the sliced and buttered loaves of The Dusty Knuckle.' – Yotam Ottolenghi
'If you've never experienced the joy of a Dusty Knuckle sandwich IRL then this book will plug the massive gap in your life.' – Ravneet Gill
'A gorgeous book from my favourite bakery, crammed full of delicious, delightful recipes full of heart and soul.' – Jessie Ware
The Dusty Knuckle is a celebration of recipes packed with flavour from east London's favourite bakery.
Full of practical, easy-to-follow instructions for mixing, fermenting and shaping, this resourceful cookbook includes everything you need to know to get to grips with dough at home. From legendary Potato Sourdough to unforgettable Focaccia, there are plenty of savoury bakes to enjoy. Delicious, buttery goodness follows, starting with sweet, yeasted doughs, then moving to pastry and much more. These detailed chapters prove that there really is no better satisfaction than baking from scratch.
As well as the step-by-step baking guides, you'll find an epic collection of recipes for Dusty Knuckle's infamous two-hander sandwiches and moreish soups, herby salads, and citrusy sauces to enjoy on, in and with bread. Whether it's Meatballs with Melted Cheese or indulgent Porchetta; Squash, Crispy Sage and Chilli Butter or Charred Hispi with Romesco, there's something for everyone.