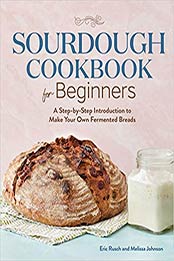 Title: Sourdough Cookbook for Beginners: A Step-by-Step Introduction to Make Your Own Fermented Breads
Author: Eric Rusch, Melissa Johnson
Pages: 180
Publisher (Publication Date): Rockridge Press (August 11, 2020)
Language: English
ISBN-10: 1646118103
Download File Format: PDF
Give your sourdough a healthy start―a sourdough cookbook for beginners
Sourdough bread is iconic for its crispy crust, airy and springy crumb, and unique tangy flavor―and it all begins with a fermented, yeasty concoction called a starter. While the process may seem extensive, this sourdough cookbook will show you how easy it can be to whip up a delicious array of artisanal sourdough breads with just a few ingredients, simple tools, and a little bit of patience.
This sourdough cookbook pairs simple instructions with tutorial photos, covering the first 6 days of bringing your starter to life and helping it thrive. Explore the science of how sourdough starters make bread rise along with how to prep your kitchen for fermented dough work. Then, try your hand at dozens of crusty artisan-style breads, flavored pan loaves, pastries, pizza, specialty breads, and even unique baked goods you can make with the leftover starter!
This sourdough cookbook includes:
Fresh start―Explore a walk-through of making, feeding, storing, and reactivating starter, and how temperature, hydration, and type of flour can influence fermentation and flavor.
Knead-to-know―From stretching to develop the gluten to proofing, shaping, and baking, this sourdough cookbook takes you through the steps of bread baking, plus beginner recipes, a handy glossary, and troubleshooting tips for every step.
Expand your skills―The recipes in this sourdough cookbook progress from a Basic No-Knead bread to a more difficult Chocolate Babka to Pasta made with Italian wheat so you can master bakes and expand your skills as you go.
Achieve sourdough success with the Sourdough Cookbook for Beginners.