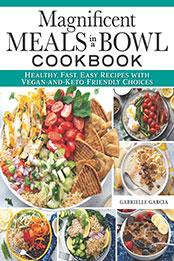 Title: Magnificent Meals in a Bowl Cookbook: Healthy, Fast, Easy Recipes with Vegan-and-Keto-Friendly Choices (Fox Chapel Publishing) Over 150 Delicious Recipes for Salads, Ramen, Burrito Bowls, and More
Author: Gabrielle Garcia
Pages:144
Publisher (Publication Date): Fox Chapel Publishing; First Edition (May 30, 2023)
Language: English
ISBN-10, ISBN-13 or ASIN: 1497103843
Download File Format:EPUB
Create delicious, nutritious, budget-friendly meals fast!
Over 150 recipes for hardy, healthy, and tasty loaded salads, bowl meals, sides, snacks, dressings, and more
Easy-to-follow steps for recipes like BBQ chicken cobb salad, mango salsa chicken salad, spicy shrimp and ramen noodles, and Greek rice bowls
Something for everyone, with recipes covering a wide range of palates, proteins, fruits, vegetables, and other topping ingredients served over leafy greens, pastas, or rice
Feed your family fast or while on-the-go with healthy, easy to prepare recipes that are perfect for making in advance
High-quality photography, cooking tips, and other helpful advice
Feeding and pleasing everyone's palates and diets with nutrition, taste, versatility, and style — and within a budget — can be a challenge, but this collection of recipes kicks that kitchen conundrum to the curb!
Whether you're feeding a crowd with different preferences or looking for make-ahead meals, Magnificent Meals in a Bowl Cookbook features more than 150 delicious and healthy recipes that will save you time, boost your energy, and please the whole family. From loaded salads to jam-packed bowls, these flavorful recipes combine leafy greens, fruits and vegetables, grains and pastas, and proteins, plus delicious dressings, sauces, and sides.
Make amazing meals with endless possibilities, including vegetarian, vegan, and keto-friendly options. These dishes are perfect for any meal, any time of day, and will feed both your appetite and your health!
Recipes Include:
Greens & Pineapple Smoothie Bowl
Bacon, Eggs & Barley Bowl
Caribbean Turkey Salad
Vegan Burrito Bowls
Jerk Chicken & Rice
Southwestern Shrimp Salad
Huevos Rancheros Salad
Kale-Blueberry Combo Salad
Dill Pickle Burger Bowl
Citrus Salmon & Pasta Bowl
Green Goddess & Farro Bowl
Italian Pasta Bowl
Power Salad
Coconut Chicken & Quinoa Bowl
BBQ Pork & Polenta Bowl
Hawaiian Ham & Couscous
Fajita Steak & Cauliflower Rice Bowl
And so much more!
Simple but hardy, and quick enough to prepare and go, the recipes inside Magnificent Meals in a Bowl Cookbook are the perfect solution for your meal prep!