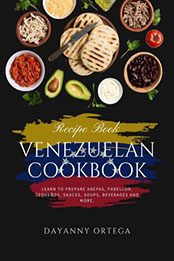 Title: Venezuelan Cookbook: Learn to Prepare Arepas, Pabellon, Tequeños, Sauces, Soups, Bevarages and More
Author: Dayanny Ortega
Pages: 119
Publisher (Publication Date): Independently published (April 17, 2023)
Language: English
ISBN-10, ISBN-13 or ASIN: 9798215577233
Download File Format:EPUB
Enjoy authentic Venezuelan gastronomy with delicious dishes and variety from the comfort of your home with the Venezuelan Cookbook, which will take you on a journey to discover the secrets of the country's most emblematic dishes. From the famous arepas and tequeños to hallaca and asado negro, to the sweetest desserts such as tres leches cake and dulce de lechosa, this book offers more than 40 authentic and easy-to-prepare recipes for your own kitchen.
Discover the mix of cultures and flavors that make Venezuelan food a unique experience and delight your loved ones with traditional dishes that they will surely want to repeat. With clear and simple explanations, you will be able to follow each recipe step by step, even if you are a beginner in the kitchen. In addition, you will find recommendations so you can prepare each dish successfully, no matter your level of experience in the kitchen.
Surprise all your friends and family with the authentic flavors of Venezuela!