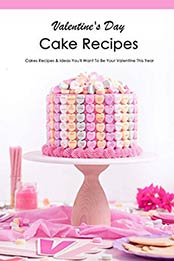 Title: Valentine's Day Cake Recipes: Cakes Recipes & Ideas You'll Want To Be Your Valentine This Year: Adorable Valentine's Day Candy Ideas Book
Author: Kalei Fermantez
Pages: 73
Publisher (Publication Date): January 13, 2021
Language: English
ISBN-10, ISBN-13 or ASIN: B08T1ZHWBG
Download File Format:EPUB
The ultimate declaration of love is a willingness to share your dessert. Luckily, these cakes will feed a crowd—so whether you're baking for the fam, a SO, your friends, or your roommates, everyone can have a little something sweet on Valentine's Day.
Here is a Preview of the Valentine's Day Cake Recipes You Will Learn:
+ Heart-Shaped Cake
+ Strawberry Chocolate Mousse Cake
+ Strawberry Shortcake Cheesecake
+ Chocolate-Covered Cake Balls
+ Oreogasm Poke Cake
And much, much more!!!