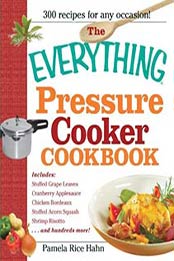 The Everything Pressure Cooker Cookbook by Pamela Rice Hahn
Print Length: 304 Pages
Publisher: Everything
Publication Date: September 18, 2009
Language: English
ISBN-10: 1440500177
ISBN-13: 978-1440500176
File Format: EPUB, MOBI
Pressure cookers will boost flavor and cut cooking time a whopping 70 percent – but only if you know how to use them. In this cookbook, author Pamela Rice Hahn teaches you about the joys of cooking with a pressure cooker. No longer the dangers they once were, these time-saving devices are godsends to busy cooks everywhere. In no time, you can whip up:
Roasted Red Bell Pepper Pesto
Cranberry-Braised Turkey Breast
Balsamic Pork Chops with Figs
Halibut in Black Olive Sauce
Peanut Butter and Fudge Cheesecake
For that slow-cooked taste in far less time, a pressure cooker is the perfect solution. Veteran cookbook author Hahn has been conjuring up recipes using her pressure cooker for years. With a full spectrum of pressure cooker recipes at your fingertips, you can create delicious breakfast, lunch, dinner, and dessert dishes in no time flat!