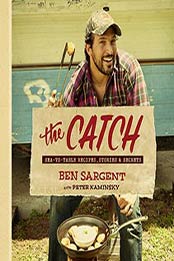 The Catch: Sea-to-Table Recipes, Stories & Secrets by Ben Sargent
Print Length: 256 Pages
Publisher: Clarkson Potter
Publication Date: July 30, 2013
Language: English
ASIN: B00AUSCORY
ISBN-10: 0307985520
ISBN-13: 978-0307985521
File Format: EPUB
Ben Sargent shares his love of the open waters with adventure stories and simple seafood recipes that will entice you with their fresh flavors.
An avid fisherman, home cook, and veteran surfer, Ben has been mesmerized by fishing since childhood. He catches almost everything he eats, but even if you don't, The Catch is the perfect book for cooking simple, delicious fish and shellfish.
These 100 recipes will teach you how to stuff, grill, saute, fry, roast, smoke, bake, and fillet to perfection, from classic preparations for salmon, shrimp, and clams to chowders using snakehead and blackfish.
Showcasing Ben's signature lobster rolls (for which people journey many oceans), The Catch also features recipes such as Catfish Sandwich with Dill Remoulade & Sliced Jalapenos (a recipe Ben made from his first catch); Mahi Ceviche with Grapefruit, Toasted Coconut & Roasted Peanuts (inspired by the flavors of Central America); Striped Bass Chowder with Broccoli Rabe Pesto (which makes enough to share with friends); Oyster Pan Roast with Garlic Butter Toasts (the perfect dish for two); and Flounder in Grape Leaves (grilled whole over an open fire).
With stunning photos from the bountiful waters of Brooklyn to the Caribbean coast, The Catch is Ben's take on sustainable seafood and will become your go-to resource when you want to savor fish and seafood in your home kitchen.