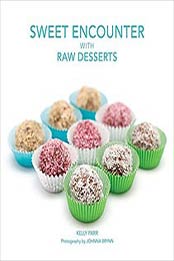 Sweet Encounter with Raw Desserts by Kelly Parr
Print Length: 126 Pages
Publisher: Purpose Publiching LLC
Publication Date: September 15, 2012
Language: English
ASIN: B072HSXM6D
ISBN-10: 0982837976
ISBN-13: 978-0982837979
File Format: AZW3
Kelly Parr's new book is more than just a recipe book! Her passion for teaching and healthy eating, combined with her daughter Johnna's experience as an international photographer, brings life to over 90 dessert recipes! (Who would have thought that Song of Solomon would be filled with so many dessert ideas?!) PLUS with over 50 motivational tips that will encourage and educate, you can't help but encounter a fresh start: body, soul and spirit!