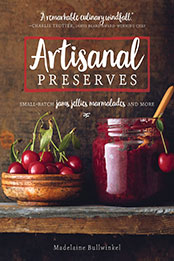 Title: Artisanal Preserves: Small-Batch Jams, Jellies, Marmalades, and More
Author: Madelaine Bullwinkel
Pages:240
Publisher (Publication Date):Agate Surrey; Revised edition (July 11, 2017)
Language: English
ISBN-10, ISBN-13 or ASIN: 1572842199
Download File Format:EPUB
Written by cooking instructor Madelaine Bullwinkel, Artisanal Preserves is a how-to guide that is perfect for eager cooks and seasoned preservers alike, providing 100 foolproof recipes for jams, jellies, marmalades, and more.
For those new to the craft, it includes a primer on the history and basic technique of preserving. Experienced canners will appreciate new flavor combinations—such as Lime Zucchini Marmalade and Blackberry Ginger Preserves—as well as 40 recipes for breads, muffins, and desserts that make good use of your new jams and jellies. Additionally, most of the recipes avoid using commercial pectin, which means you can use less sugar or, in some cases, none at all.
Since Artisanal Preserves was originally published in 2005, the popularity of home preserving has continued to rise along with renewed interest in other old-fashioned craft cooking hobbies, such as brewing beer, pickling produce, and making sourdough starters.
Bullwinkel's thorough teaching style and time-saving techniques make the preserving process surprisingly simple. Artisanal Preserves is the go-to primer for making elegant, delicious fruit preserves at home.